Stainless Steel Castings
Silica sol process stainless steel casting belongs to investment precision casting or precision casting. It is a casting process with little or no cutting, and is an excellent process technology in the foundry industry. Dawang Steel Castings has more than 23 years of experience in the stainless steel casting industry for customers. Seeking affordable stainless steel casting provider? Feel free to contact us anytime.
316/316L stainless steel casting
316: After 304, the second most widely used steel grade, mainly used in the food industry, watch accessories, pharmaceutical industry and surgical equipment, adding molybdenum to obtain a special structure that is resistant to corrosion. Because of its better resistance to chloride corrosion than 304, it is also used as "marine steel". SS316 is usually used in nuclear fuel recovery units. Grade 18/10 stainless steels generally also meet this application level.
316 L: Low carbon, so it is more resistant to corrosion and easy to heat treatment. Products such as chemical processing equipment, nuclear power generators, and refrigerant storage tanks.
304: Universal model; i.e. 18/8 stainless steel. Products such as: corrosion-resistant containers, tableware, furniture, railings, medical equipment. The standard composition is 18 % chromium plus 8 % nickel. It is a stainless steel that is non-magnetic and cannot be changed by heat treatment. The GB grade is 06Cr19Ni10.
304 L: The same characteristics as 304, but with low carbon, it is more corrosion-resistant and easy to be heat-treated, but has poor mechanical properties. It is suitable for welding and products that are not easy to be heat-treated.
410
Martensitic (high-strength chromium steel), with good wear resistance and poor corrosion resistance. beside, in all situation it is magnetic. commonly used in cutlery, petroleum refining, petrochemical processing, and marine , etc.
416
The addition of sulfur improves the processing properties of the material. 416 stainless steel has low carbon content and good corrosion resistance. 416 is a free-cutting martensitic stainless steel that can be strengthened by heat treatment. The strength and machinability of 416 are better than 304 and 316, and the friction coefficient is small, but the corrosion resistance is not as good as 304 and 316. 316. 416 stainless steel is mainly used in the production of solenoid valves, micro motors and electrical components. The above materials are free-cutting stainless steel, especially suitable for mass production of automatic lathes and CNC lathes.
17-4 ph investment casting
Alloy 17-4PH is a precipitation, hardening, martensitic stainless steel composed of copper, niobium/columbium.
Features: After heat treatment, the mechanical properties of the product are more perfect, and the compressive strength can reach as high as 1100-1300 Mpa (160-190 ksi). 17-4PH is a martensitic precipitation hardening stainless steel. The performance characteristics of 17-4PH are that it is easy to adjust the strength level, which can be adjusted by changing the heat treatment process. The formation of precipitation hardening phase by martensitic transformation and aging treatment is its main strengthening method. 17-4PH has good attenuation performance, strong anti-corrosion fatigue and anti-water drop performance. Application fields: Offshore platforms, helicopter decks, and other platforms
Application field

· food industry castings
· Pulp and paper industry
· Aerospace (turbine blades)
· Nuclear waste barrels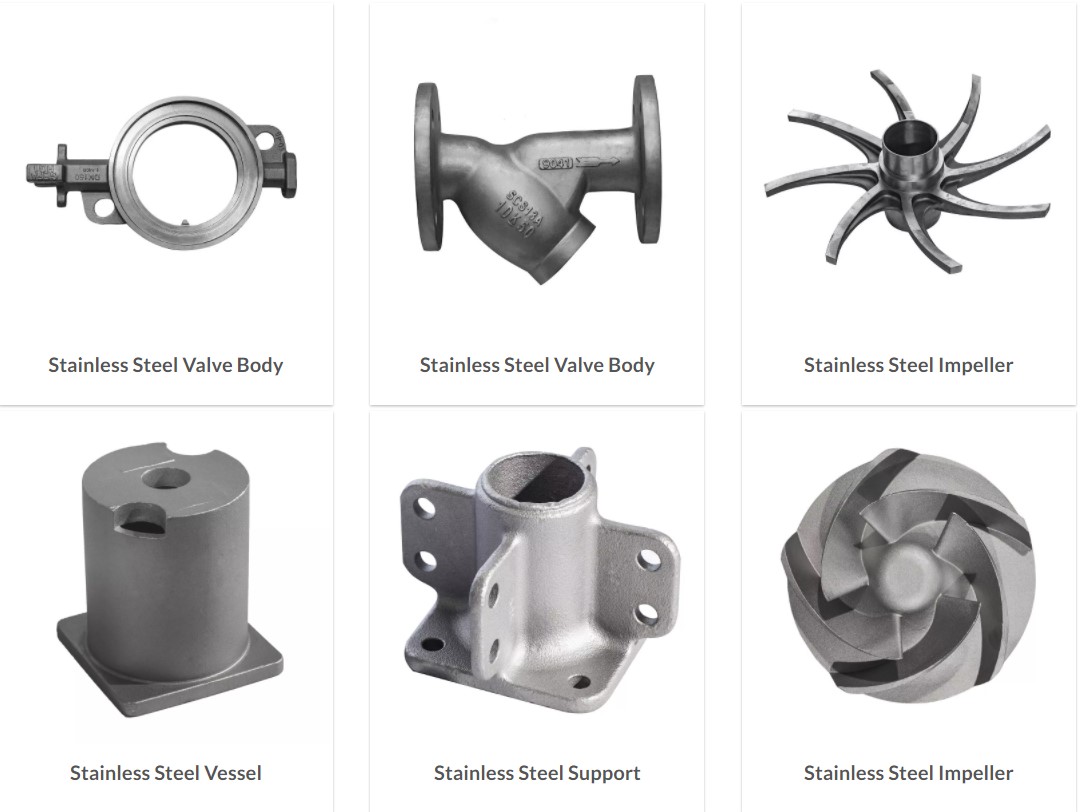 What kind of casting process do we use to produce stainless steel parts?
Dawang stainless steel foundry uses stainless steel lost wax casting(colloid and composite) and sand casting. As a leading stainless steel casting foundry in China, we have been committed to providing high-efficiency and high-quality stainless steel precision casting.
How much does custom stainless steel casting cost?
As China's top stainless steel foundry, Dawang provides our customers with reasonable prices for custom stainless steel casting. The price of basic raw material castings starts from USD 5/kg.
Are there any discounts for stainless steel precision castings?
Yes. As a leading stainless steel foundry in China, we offer discounts to customers who purchase large quantities of stainless steel precision castings.
Specific: When the total weight (1 type) of stainless steel precision castings reaches 10 tons, or the quantity reaches 10,000 pieces, we will refund the mold fee.
What is the difference between 304 and 304L stainless steel?
The main difference is the carbon content. 304 stainless steel is qualified if the carbon content is below 0.08%. The carbon content of 304L stainless steel is qualified below 0.03%.
The carbon content means the quality of the casting. The lower the carbon content, the better the corrosion resistance of stainless steel castings. Most stainless steel casting companies can provide different types of stainless steel investment casting according to customer requirements.