Stainless Steel Valve Body
Stainless Steel Valve Body
Dawang steel casting

dandong

6 weeks

4000 tons/year
1. Parts with complex shapes can be cast, and stainless steel castings have high dimensional accuracy and good surface quality.
2. Good shock absorption and wear resistance, low notch sensitivity and good heat treatment performance.
3. The mixed molding sand can be used for a long time and has a wide adaptability.
4. For alloy materials that are difficult to forge, weld and cut, it is especially suitable for casting by precision casting.
5. After heat treatment, the mechanical properties of the product are more perfect, with good attenuation performance, strong anti-corrosion fatigue and anti-water drop performance.
PRODUCT DESCRIPTION

Silica sol process stainless steel casting belongs to investment casting or precision casting. It is a casting process with little or no cutting and is an excellent process technology in the foundry industry. We are china investment casting suppliers with more than 23 years of experience in the stainless steel casting industry, serving customers.
Valve Body Casting
The casting of the valve body is an important part of the valve manufacturing process, and the quality of the valve casting determines the quality of the valve. The following introduces several casting process methods commonly used in the valve industry:

Valve body sand casting:

Sand casting commonly used in the valve industry can also be divided into: wet sand, dry sand, water glass sand and furan resin self-hardening sand according to different binders.

(1) Green sand is a molding process method with bentonite as a binder.

Its characteristics are: the finished sand mold does not need to be dried or hardened, the sand mold has a certain wet strength, and the sand core and shell have better concessions, which is convenient for cleaning and falling sand of castings. The molding production efficiency is high, the production cycle is short, the material cost is low, and it is convenient to organize the production line.

Its shortcomings are: castings are prone to defects such as pores, sand inclusions, and sticky sand, and the quality of castings, especially the internal quality, is not ideal.

Valve body precision casting:
In recent years, valve manufacturers have paid more and more attention to the appearance quality and dimensional accuracy of castings. Because good appearance is the basic requirement of the market, it is also the positioning benchmark for the first machining process.

The commonly used precision casting in the valve industry is investment casting, which is briefly introduced as follows:

(1) Two process methods of investment casting:

①Using low-temperature wax-based mold material (stearic acid + paraffin), low-pressure wax injection, water glass shell, hot water dewaxing, atmospheric smelting and casting process, mainly used for carbon steel and low-alloy steel castings with general quality requirements, The dimensional accuracy of castings can reach the national standard CT7-9.

②Using medium temperature resin-based mold material, high-pressure wax injection, silica sol mold shell, steam dewaxing, rapid atmospheric or vacuum smelting and casting process, the dimensional accuracy of castings can reach CT4-6 precision castings.

Product Name

Steel castings

Product Type

investment casting(lost wax), sand casting, shell molding

Material

Stainless steel, alloy steel, carbon steel, manganese steel casting...

Weight range

0.1-2000kg

Service Project

To provide production design, production and technical service, mould development,processing, packing and shipping etc.

Heat treatment

Quenching and Tempering,Normalizing and Tempering,Solution Treatment,Annealing

Facilities

Spectrograph, Automatic Sand Casting Molding Line,Multistation Wax Injection Machines,CMM etc.

Application

Excavators, bulldozers, loaders, graders, scrapers

Dimension

As customers' request

Packing

Eco-friendly pp bag + wooden boxes

As customer's specific requirements
Our precision cast components are used in many fields. This includes equipment such as construction machinery: excavators, bulldozers, graders, scrapers, loaders, dredgers, Swingloaders, etc.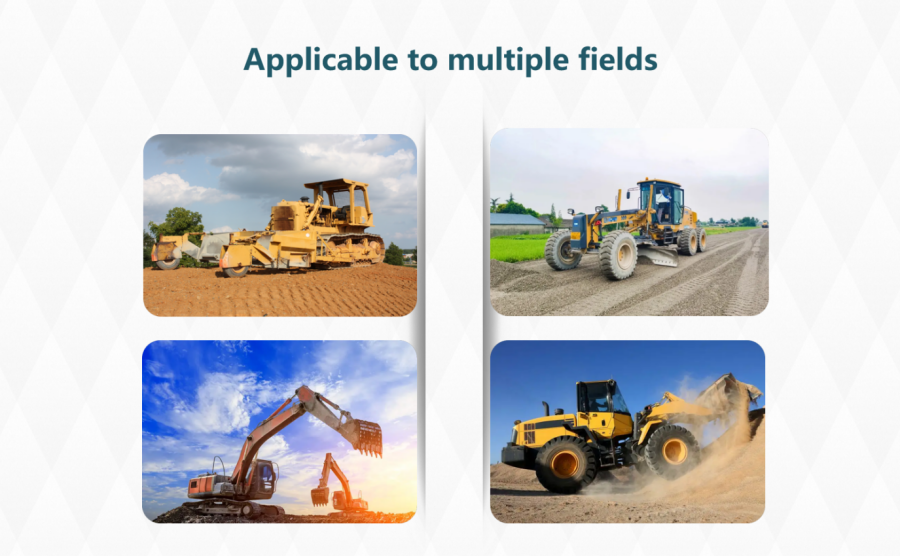 FOLLOWING IS OUR INVESTMENT CASTINGS PROCESS
~Pouring Simulation
A review meeting is held within the technical department to review the specification, determine the gating system and verify it through the simulation system software.
~Mold Development
The technical department develops the mold, and the quality department uses the three coordinates to carry out the dimensional inspection.
~Raw Material Inspection
The QA inspects the incoming materials. For the metal materials, inspection rate is 100%. Unqualified materials are strictly prohibited from entering the warehouse.
~Wax Pattern
One shift for this step. If the production capability increases or customers have urgent demand, we can adjust shifts to guarantee supply. The workshop uses an automatic waxing machine to set the waxing pressure, holding time, etc.
~Quality Control Proposal
The technical department develops workshop control plans and product operations, guide book, and there are specialized team who inspect each metric on a daily basis and keep them on record.
~Shell Preparation
The workshop has 4 automatic production lines, able to produce 1800 sets of shells. We use hygrothermograph to monitor the humiture, use aerometer and PH to monitor the concentration of aluminum chloride liquor.
~Shell Pouring
Six 250KG furnaces in use at the same time, and two 500KG spare furnaces for using when capacity increases. The operators measure the temperature of the molten steel.
~Quality ontrol Proposal
The technical department develops workshop control plans and product operation instructions. A specific worker is responsible for conducting inspections on various metrics every day and keep records. Each furnace molten steel is subjected to post-furnace spectral analysis. We ensure that the chemical composition of the material is qualified.
~Clean and Heat Treat
The workshop is fully equipped with 8 heat treatment furnaces, 3 quenching furnaces, 1 central shot blasting machine and 19 shot blasting machines.
~Warehouse
The warehouse manager follows the company's finished-product warehouse management guidelines, classifies and stores according to customer and product requirements, avoiding problems such as product mixing and scratching.
~Packaging
The technical department reviews the packaging requirements and develops packaging instructions, especially for packaging of machined products, and uses a bubble film to isolate the products to ensure no bumps. Specific products can be specially packaged according to customers' requirements.
~Shipping
The information of the transportation vehicle shall be checked in management systems, and the product shall be covered by the tarpaulin after the loading.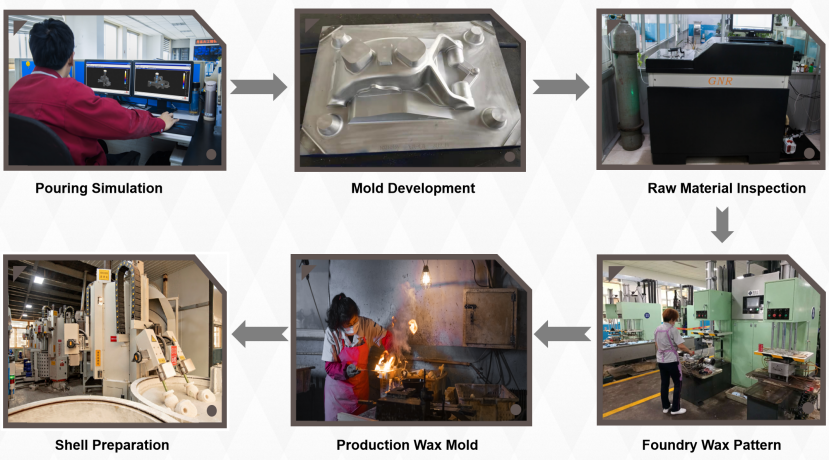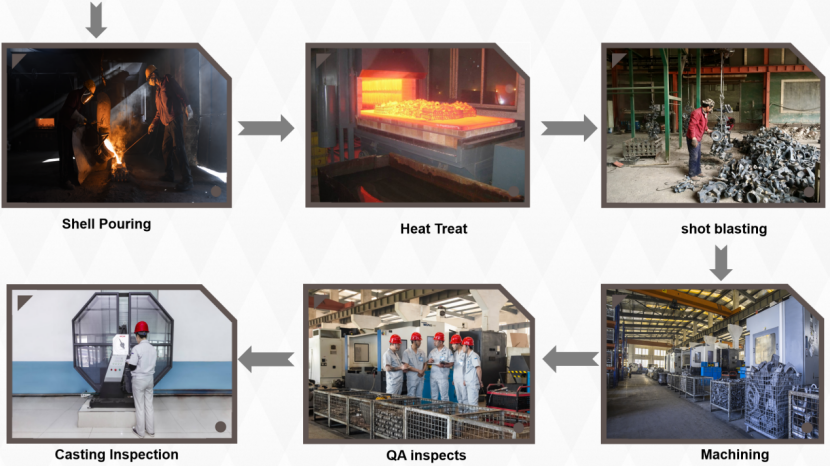 ADVANCED CASTINGS PROCESSING EQUIPMENT
Automated Equipment To Increase Production Efficiency And Product Quality.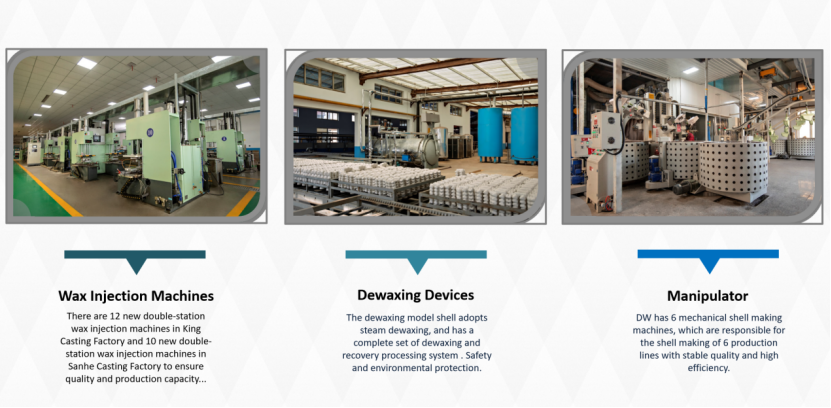 Dawang Steel Casting Co., Ltd. A reliable Chinese casting manufacturers. Established in "1998", we have more than 20 years experience in casting production.Our services include precision casting, spare parts cast, lost wax casting, machined casting, investment casting, casting body parts and so on. 30 technical, quality and inspection talents. Throughout the process, we constantly improve our service and process, aiming for the best quality of our products. Nearly 500 employees, more than 30 professional engineers, 3 branches, With 20 years of export experience, 90% of the company's products are exported to Europe, America, Japan and other areas.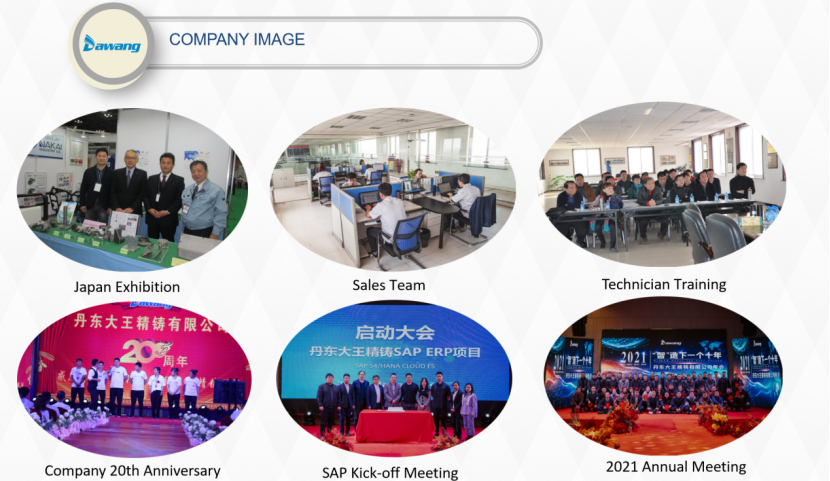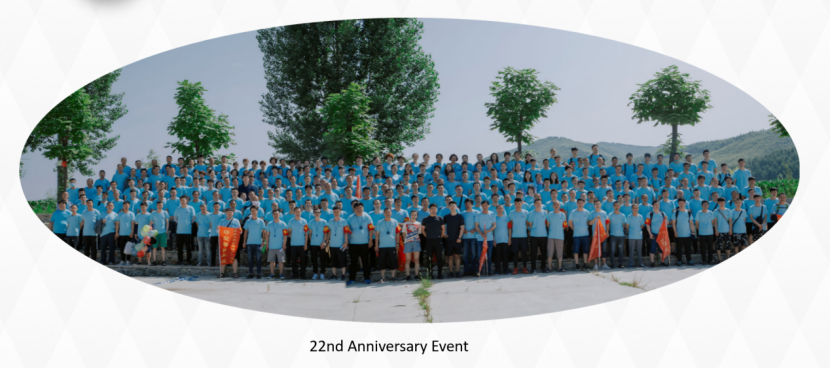 CERTIFICATES
IATF16949,ISO9001,ISO14001,GB/T45001 Management system certificate. Environmental: full compliance with the environmental protection laws and regulations of China.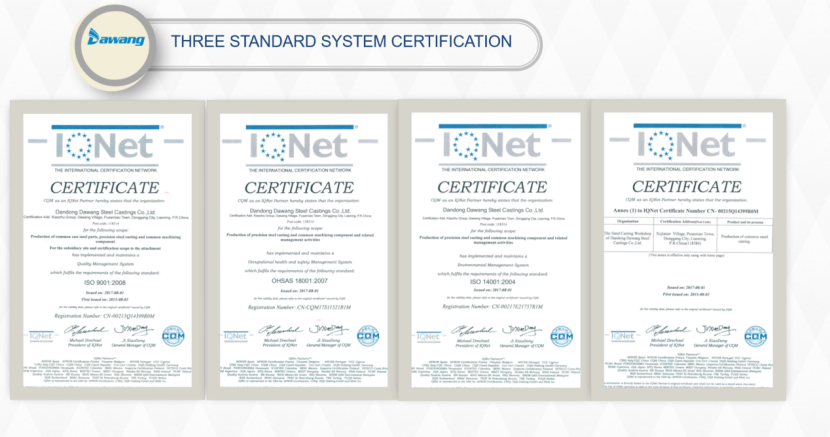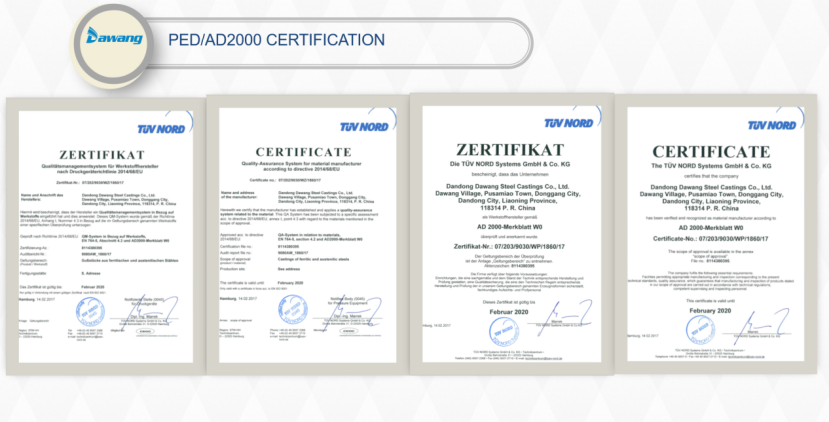 Dawang Steel Castings has more than 23 years of experience in the stainless steel casting industry for customers. Seeking affordable stainless steel casting provider? Feel free to contact us anytime.